Non Maternity, Maternity Wear
Maternity wear. What a fairly narrow minefield it is. I have had two babies- my last one two years ago. With the exception of two pairs of maternity jeans, I bought entirely off the main range high street. I found myself increasingly frustrated with the offerings that were presented to me with maternity wear brands. In my experience, it was like I had to give up my own sense of individuality and personal style to fit into the maternity clothes that were around.
Wrap dresses, leggings, plain long line tops all in an array of fairly dull tones. There is nothing wrong with any of those garments, but it wasn't me and just because I was growing something in my belly I didn't feel I needed to change my own sense of style. Accommodate yes, but change- no!
Now obviously every woman responds differently to each pregnancy, bumps blossom at different rates, weight is often lost not gained at first. Some breasts swell fast, rib cages and hips widen, feet grow (thats just a few things on a long list!) So its important that you try things on and get fit properly with a good bra as a first step.
I can't say that all of the selects I have picked out below will suit everyone. They won't and unless I know you and your bump and what sort of lifestyle you lead I cant fully curate something for you. What I hope to do with this post though, is show you that there are possibilities out there. Demonstrate that you don't need to spend a fortune on ill fitting maternity wear (that may only be relevant for a short period of time) and prove to you that some of the things you buy can be worn, not only during your pregnancy, but beyond it as well.
I hope the below is helpful to you. I. x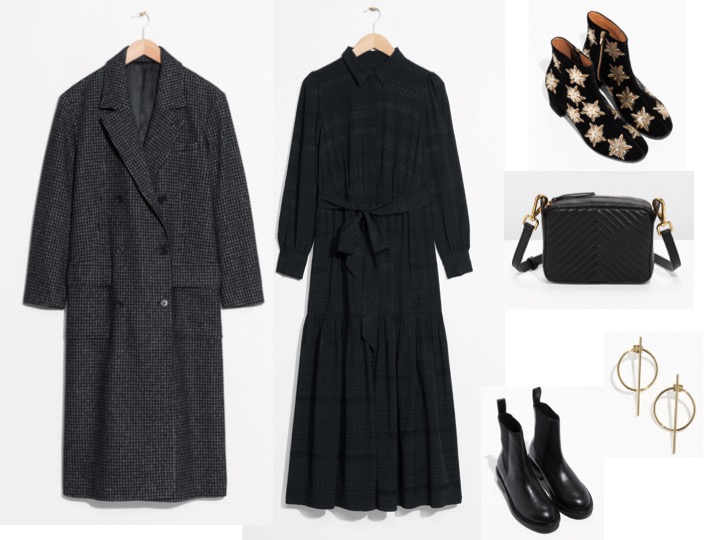 This long line Maxi from Stories is great for early trimester, as well as that post pregnancy 4th trimester. The button down makes its accessible for breast feeding. Don't be afraid to size up a bit, you can stick heftier belts round your middle, (to tighten up the dress) depending on your stage. Team with flat boots, biker or chelsea (as I have picked here) or a short embellished heel for a dressed up version. I find unstructured coats great for winter bumps. This one will go with most things and will look good worn as well as draped round the shoulders. Embellish with accessories to befit your occasion, don't be afraid to go for it. Tiny hands love dangly things, so enjoy it now before you get ear lobe reconstruction ;)
Following on from the vibe above, we continue with Maxi dresses. You may need to size up depending on trimester. Dress 1. may even work for breast feeding as it has a handy zip at front. Dress 2, can be worn with a thin knit polo or teeshirt underneath. Play around with flat boots, flat shoes or low slung heels (or high) if you are up for it. A leather biker jacket will look good over any of these. All can go day to night as well, depending on your occasion and all should be good for that tricky 4th Trimester. Dress 3 // Dress 4
Short skater style. Dress 1 is roomy and forgiving and will work throughout all trimesters. The only thing to consider is your height. As your bump grows the length of the dress will shorten. If thats the case and its becoming indecent, wear over a pair on leather effect maternity trousers ( I will tag some below) Dress 2 is loose fitting, but as with the dress's above that have a waist seam, size up if needed. Team with black tights for winter, this leopard coat is unstructured and not an overwhelming length, good for smaller women. Boots 1 // Boots 2
Unstructured dresses, good for any stage of your trimester. Team with flats, trainers or brogues, embellished kimono cardigans or double breasted oversized blazer. All of this is good for after your baby's arrival, especially the shirt dress for breast feeding mums. NB The shirt dress may need to be worn over trousers or jeans. Dress 1 // Dress 2 // Brogues // Boots
Workwear. Always a tricky one, and hard to do well with separates. Dresses are a safe bet and can be brightened up with a coloured coat and accessories. Some of these are form fitting to show off bump with stretch to accommodate growth. All will look good with heels or flats, find something that you feel comfy with- the more surface area on your heel the easier it will be on your back. Dress 1 // Dress 2 // Dress 3 // Dress 4 // Dress 5 // Coat 1 // Dress 6 // Coat 2 // Dress 7
Tube skirts and cropped or slim fit knitwear. So comfy and a winner throughout any stage, especially when that bump pops out and you stop looking 'sunday roast bloated' I absolutely adore this flying jacket from Warehouse too. You can tuck up the heart jumper and the dark grey ribbed jumper if you don't want them long line. Tube skirts are good for after pregnancy too, you don't need maternity ones, find some with a good stretch content. The green one is Zara, and comes in grey and black too. Jumper 1 // Skirt 1 // Jumper 4 // Skirt 2
Slouchy knitwear with maternity jeans. There comes a point where you have to get maternity jeans. I like the ones with inset stretch panels either side of the hips, and a button and fly. Over the bump ones always got baggy and slipped down I found. They are also great for postpartum tums. Jumper 1 // Jumper 2 // Jumper 3 // Jean 1 // Jean 2 // Jean 3.
Simple tube dresses, teamed with embellished cardigans and kimonos. This is such an easy look to pull off, super comfy and good for any trimester. Chunky boots and trainers will work great with this look. The outfit bottom left is actually a dress, its buttoned so can be worn open too. Breastfeeding friendly- and it has pockets! Cardi 1 // Dress 1 // Dress 2 // Cardi 2 // Dress 3 // Kimono 1 // Cardi 3